Salad Bowl Garden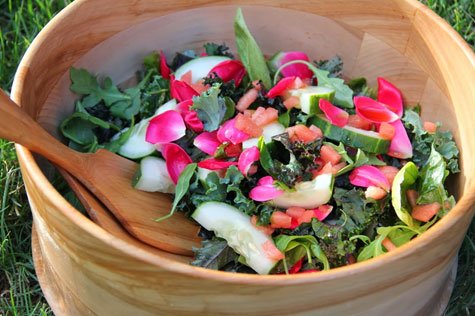 The PES Salad Bowl Garden is having it's second lunch event of the year this Wednesday at 1PM- come hungry and ready to munch on some scrumptious greens!
We need to get the garden ready for the upcoming spring planting event, so everything must go! Bring your own bag and take whatever you'd like- we're harvesting it all!
When: 1 pm this Wednesday February 26th
Where: Salad Bowl Garden in front of Plant and Environmental Sciences
Who: The Salad Bowl Garden team and all of you wonderful, veggie loving people!
Please make sure to bring a bowl and fork as well as any custom dressings you may like to use. Lemon, salt and pepper, parsley pesto from the garden, and of course the delicious veggies will be provided! Some of the salad-ready veggies currently growing at the garden include:
Red lettuce
Parsley
Broccoli
Chard
Bunching onion
Red Russian Kale
Beets
Looking forward to enjoying some yummy veggies with you all!
P.S. We are also planning bed prep and spring planting dates to take place during the next couple of weeks so keep your eyes peeled for those exciting events as well!
Cheers!
The Salad Bowl Garden Team