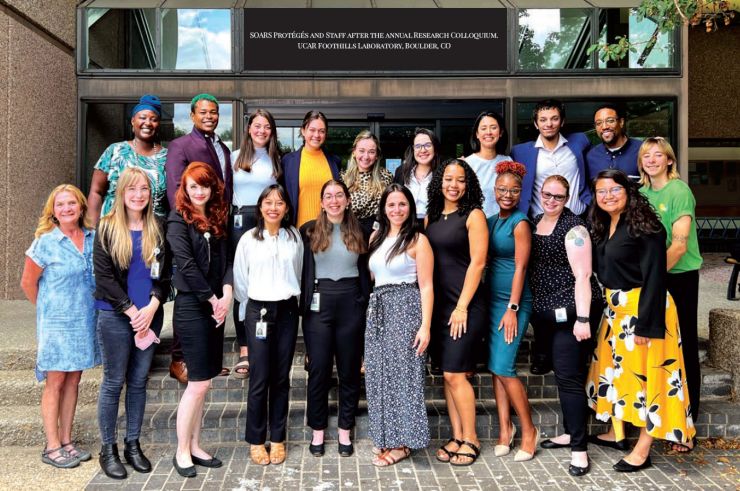 Jocelyn Rodrigues attending the SOARS Annual Research Colloquium at the UCAR Foothills Laboratory, Boulder, CO (top row, fourth from the left)
Congratulations to Jocelyn Rodriguez, Environmental Science and Management major, who was selected to participate in the University Corporation for Atmospheric Research (UCAR) Significant Opportunities in Atmospheric Research and Science (SOARS) program last year and was featured in their Earth, Wind, Sea and Sky publication. Jocelyn successfully conducted research on "Comparing the Efficacy of Calculated and Measured Forest Canopy Temperature for Estimating Stomatal Conductance". Please join me in praising Jocelyn's achievements!
The SOARS mission is to increase the diversity of the atmospheric and related sciences. Throughout the year they maintain contact with their Protégés, through continued mentoring, for applications to graduate school, and for positions in the science community, supporting them in attending conferences, and awarding need-based tuition scholarships.
SOARS offers up to four (4) years of summer research experience, strong mentoring, community support, funding for conferences, tuition support, and graduate school preparation for their Protégés. Additionally, they offer support for the atmospheric science and research experience for undergraduate communities; including periodic webinars for students on topics relevant for graduate school, internships and careers in the atmospheric sciences, and networking and training opportunities for faculty. For more information about that growing Program, please visit their website at: https://soars.ucar.edu/