Award Category
Research
Description
Nominated to a current postdoctoral scholar for outstanding research contributions to science or a singular scholarly work (peer-reviewed article, book, book chapter).
Maximum Award Recipients
1 Postdoctoral Scholar Award
Nomination/Application instructions:
This award is self-nomination, requiring a statement of research that includes a concluding remark on the broader impacts of the research (1-page maximum, 0.5" margins, 12 pt. font), a 2 page resume/CV, and the relevant scholarly work (when appropriate), sent via email as one all-inclusive PDF file. In addition, applications must arrange to have up to two letters of recommendation sent via email directly from the recommender. Eligibility: Limited to current students/junior specialists/postdoctoral scholars or those within 18 months of affiliation/appointment with the department.
Note: Submit all materials to awardsLAWR@ucdavis.edu by 5:00 pm (PST) on December 15, 2020. The awards committee reserves the right to nominate individuals for awards, withhold an award when no applications are received,and/or increase the number of awards when applications are equivalent in quality. Individuals can receive more than one award when eligible. Awards will be announced in Spring 2021.
Award Recipients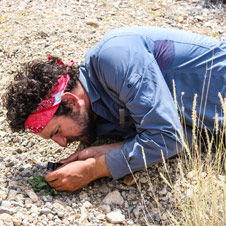 The 2019 Distinguished Postdoctoral Award is awarded to Dr. Steven M. Grodsky. Steve is an ecologist, entomologist, and was a postdoctoral scholar in Rebecca R. Hernandez's Lab. While serving in this role, Dr. Grodsky co-founded the research initiative, the Wild Energy Initiative (WildEnergy.org) within the Muir Institute at UC Davis. He receives this award owing to his excellence in research focused on understanding relationships between renewable energy and the environment. His research during his postdoctoral tenure emphasized understanding how siting decisions of concentrating solar power plants impacts ecosystem services and indigenous values of plants.