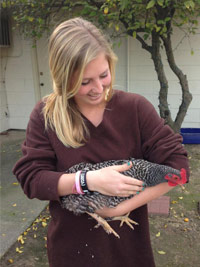 Class Level: 4th year undergrad
Major: ESM, Soils and Biogeochemistry Track
Why did you select this major?
Once accepted to UC Davis, I immediately declared my major as ESM. I knew that with all of the different available tracks I would still get to decide what to focus on later while making headway towards the requirements for my general area of interest. I have always been someone attracted to many various topics, and so when I discovered how interdisciplinary the Soils track was I established it as my emphasis.
Favorite course(s) and why?
The credit to my first college course that inspired me to really embrace my studies has to go to Biology 2C: Biodiversity and the Tree of Life. This course really changed my outlook on school and influenced every class to follow. However, every time I have taken a soil or biogeochemistry course, it becomes my new favorite. Starting with ESM 120, Global Environmental Interactions, I truly discovered the interdisciplinary science that is soils. Intro to Soils, GIS, and Environmental Monitoring introduced me to both the physical and technical aspects in the field and lab, which further inspired me to learn. Soil Chemistry and Oceanography showed me how to use my passion to motivate my work ethic, drastically improving my studies. My last quarter at Davis has been the best so far (Soil Genesis, Morphology, and Taxonomy, Sustainable Nutrient Management, Soils and Land-Use, and Water Science and Management). Everything is coming together, and I am learning how to apply my knowledge and link everything to the big picture. All of the professors in LAWR that I have had are truly inspiring and amazing people. Their passion for their respective subjects carries directly over to the students they teach.
Best college experience so far?
The ESM 108 camping trips really changed my perspective towards my studies, making the things I was learning more tangible and real. I first bonded and became friends with other students in my major by taking this class, and that gave me friendships and connections that have lasted the rest of my college experience. Being a student-athlete as well has allowed me many experiences I would not have otherwise had, like traveling the country to play games and realizing how awesome UC Davis is compared to other schools.
Extra-curricular activities?
I strongly believe the source of my passion to learn comes from being involved in as many things as possible. Although I constantly question if I have too much on my plate, I can't resist the opportunity to apply what I know and am learning to help inspire others. Firstly, I am a student-athlete on the school's ICA field hockey team. I have also volunteered for the following organizations and even interned in a few: Project Compost, UC Davis Dining Services Waste Reduction Team, the UC Davis farmers market, the Botanical Conservatory, and the Food Recovery Network.
Your advice to new students in this major?
If you are interested in anything related to Environmental Science, this is the place to be. Don't rush on picking your emphasis or career and take as many different kinds of classes in the different related disciplines as possible. See how everything interacts and what draws you in; you won't know if a topic is interesting to you if you aren't exposed to it! The amount of talent in the academic staff here in LAWR is outstanding, and you should take advantage of getting to know these great professors and graduate students. Go to office hours, make friends, get involved, and see where the major takes you.
What are your long-term goals and how do they relate to this major?
Falling in love the Soil came very easily; it's various connections with our food, water, ecosystems, and lives captivate me. Even though I don't know what career I would like to pursue yet, I know that soils will have a large role in it because of how multifaceted the subject is. I could be a farmer, pedologist, forest fire fighter, science teacher and the list of dreams goes on. As long as I eventually find myself in a position where I can inspire others to love to learn, I will be happy. The instruction I have had in this major has shown me how to do that because all of the instructors, teaching assistants, and students have influenced me in that way.
Do you have any additional comments regarding your experience as an LAWR student?
I am so incredibly grateful to be involved with such a passionate group of people. The students and staff in this department want to make a beneficial difference in the world, and they actually do so.