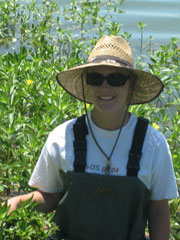 Class Level: Senior
Major: ERS
Why did you select this major? I love the flexibility and options that ERS offers. There is a wide variety of courses I can choose from and I can focus my studies on the topics I am interested in.
Favorite course(s) and why? ESP 155: Wetland Ecology introduced me to all aspects of wetland ecology, from soils to animals. We had four weekend fieldtrips to local and fascinating wetlands, even an accumulating peat bog! I had thought that I wanted to focus on wetland ecology and this course sealed the deal for me. ERS 60 is another great course, it covers a broad range of environmental issues and is an excellent introduction to ERS.
Best college experience so far? Studying abroad in Spain -- a change of location is such an excellent opportunity for a change of perspective
Extra-curricular activities? I'm an LAWR peer advisor and LAWR club member. I recently started working for the USDA invasive and aquatic weed lab on the wetland invader, Ludwigia, which I had also worked with in ESP 155. I also practice yoga, an incredible stress reducer.
Your advice to new students in this major? It goes by fast, use your time wisely but don't get too wrapped up in school. Be sure to enjoy yourself. Take advantage of internship opportunities -- you will probably learn your most valuable skills working in the field.
What are your long-term goals and how do they relate to this major? Ideally I would like to work in wetland protection and restoration, but I think my social conscience will draw me into other aspects of the political area. But whether it's restoring wetlands or improving lower-class housing conditions, I want to make a difference, however big or small.