SSC 105/205/205 Summer 2009 - Southern California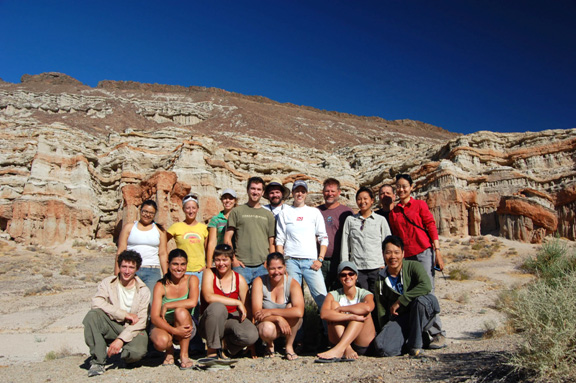 Shown above: Bottom row (left to right) - Nikos Karakashian, Caroline Guebels, Anna Petersons, Ligia Azevedo, Jennifer Denbow, and Tee Prapakorn. 2nd row - Geetika Joshi, Laura Calbert, Kevin Muzikar, Valerie Bullard, Ngoc-Thuy Le, and Weiyuan Zhu. Back row - Antonia Palkovic, Scott Morford, Randy Dahlgren and Nick Gallo.
The summer course was from June 22 – July 10, 2009. The course traveled to a different location each night as we made a loop around Southern California. We stopped in areas throughout the Central Valley, the Delta and San Joaquin Valley, the Sierra foothills and the Sierra Nevada, the Mojave Desert and Owens Valley, Ventura and San Luis Obispo Counties, the Central Coast Ranges, and over to the Panoche Fan.
At the stops we would dig, describe and classify the soils. We would then view and discuss soil relationships to the rest of the landscape, geology, vegetation, and climate as well as the influence of time. We also discussed biological, physical and chemical process taking place in the soil all the while working together and camping all over Southern California.

Here is a link to the stops we made during the class in google maps put together by Nick Gallo. View Map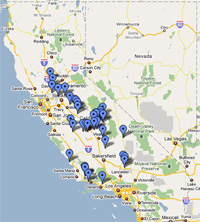 Photo Slideshow: View
Download Trip Pictures: Download 98MB