IA announces annual award recipients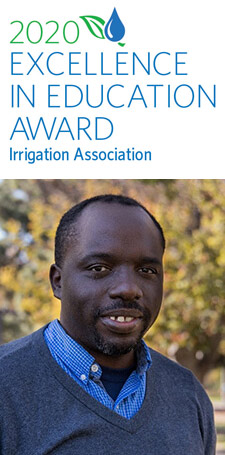 The Irrigation Association is proud to kick off Smart Irrigation Month by announcing the recipients of its annual awards. These awards honor those who have made significant contributions to the irrigation industry, and each recipient recognized this year is a true changemaker who has made unique and meaningful accomplishments toward furthering the industry and promoting efficient irrigation.
The Excellence in Education Award recognizes an outstanding educator who is actively teaching or has formerly taught irrigation, water management and/or water conservation.
The 2020 Excellence in Education Award recipient is Isaya Kisekka, PhD, of the University of California, Davis. He is currently an associate professor of agricultural water management and irrigation engineering and associate irrigation engineer. Kisekka was instrumental in reviving the irrigation curriculum at UC Davis. He co-led the creation of three new irrigation courses and the modification of one old course. This effort resulted in creation of an irrigation and water management minor available to students from different majors.