Can Ben Houlton help UC Davis solve climate change?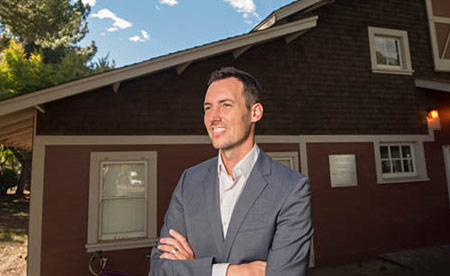 By Lisa Howard
Ben Houlton hasn't quite settled into his office in The Barn.
The new director of the John Muir Institute of the Environment took over the program in August from Mark Schwartz, who had steered the program for seven years.
The 41-year-old professor in the Department of Land, Air and Water Resources, looks around at the cluttered collection of dated and mismatched wooden office furniture that seems ubiquitous on University of California campuses. "I don't think Mark cared, but I need something more minimal." Houlton smiles. "Maybe just a desk and a table."
Houlton is busy mapping out strategies for a very ambitious goal: Using the resources of JMIE, one of the largest and most well connected institutes on campus, to help UC Davis become a key player in solving the challenges of global climate change.
California has been at the forefront of tackling climate change for decades. And UC Davis is a powerful player when it comes to the research and knowledge critical for solving climate change, ranking first in the world for plant and animal sciences, second for agriculture and forestry, and fourth for environment and ecology. And the JMIE has been committed to its mission of discovering, researching and solving pressing environmental and human health challenges for almost twenty years.
Houlton's expertise in global biogeochemical cycles—particularly
nitrogen—positions him to understand the complexities of the science involved in climate change. But his motivation for wanting to fix what's wrong goes all the way back to his childhood.

Read full article @ http://research.ucdavis.edu/about-us/news-center/n...